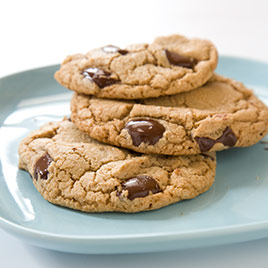 Best Chocolate Chip Cookies
The holidays are here, and I've been seeing lots of recipes for yummy cookies. This is anything but a food blog, but since I do love to bake, I thought I'd post some of my favorite cookie recipes. I've provided links where I could find them, and full recipes are at the bottom for the ones I couldn't find.
Enjoy and if you have one, please leave your favorite cookie recipe (or two) in the comments!
Best Chocolate Chip Cookies
(from America's Test Kitchen)
Brown Sugar cookies
(from America's Test Kitchen)
Peanut Butter Sandwich Cookies
(Martha Stewart)
Chocolate-Dipped Coconut Macaroons
(Sunset Magazine)
Seven Layer Bars
(From the sweetened condensed milk can)
Oatmeal Butterscotch
(from
The Buttercup Bake Shop Cookbook
)
This is a go-to recipe of mine. Very easy and makes a lot of cookies, 3-4 dozen.
1 1/4 cups all purpose flour
Peanut Butter Sandwich Cookies
1 tsp baking soda
1/4 tsp salt
3/4 cup (1 1/2 sticks) unsalted butter, softened
3/4 cup sugar
3/4 cup firmly packed light brown sugar
2 large eggs, at room temperature
1 tsp vanilla extract
3 cups rolled oats (not quick-cooking oats)
1 1/2 cups (1 10oz pkg) butterscotch chips
Preheat oven to 350 degrees.
Lightly grease two or three 12 x 18 inch baking sheets (Note: I like to use the silpat for these.)
In a medium bowl, whisk together the flour, baking soda and salt. Set aside.
In a large bowl, cream the butter with the sugars until fluffy, about 2-3 minutes. Add the eggs, one at a time, and mix well. Add the vanilla. Add in the flour mixture and beat thoroughly. Stir in the oats and the chips until well incorporated.
Drop by rounded teaspoonfuls onto the prepared cooking sheets, leaving several inches between for expansion. Bake for 10-12 minutes or until lightly golden. Cool cookies on sheets for a minute, then remove to a rack to cool completely.
Peanut Butter Surprises
From Martha Stewart. Makes about 2 Dozen. These are best eaten fresh from the oven, when the chocolate center is still warm.
1 1/2 cups all purpose flour
1 tsp baking soda
1/4 tsp salt
1/2 cup (1 stick) unsalted butter, room temperature
1 cup packed light brown sugar
1 large egg
1 tsp pure vanilla extract
1 cup smooth peanut butter
1 cup roughly chopped, roasted, salted peanuts, plus 48 halves for pressing into tops
10 ounces semisweet chocolate, cut into 1-inch chunks
Combine flour, baking soda, and salt in a medium bowl and set aside. In the bowl of an electric mixer fitted with the paddle attachment, cream butter and sugar on medium speed until light and fluffy. Add egg and vanilla; beat until well combined. Add peanut butter and beat until combined.
Add the flour mixture all at once, and beat on low speed until just combined. Add the peanuts; beat until combined. Wrap dough in plastic wrap, and chill in refrigerator at least 2 hours.
Preheat oven to 350 degrees. Line two baking sheets with parchment paper. Pinch off about 2 Tbsp of dough, and make a well in your hand with the dough. Place one chunk of chocolate in the center, and enclose with the dough to cover completely. Roll dough into about a 1 3/4 inch ball with your hands.
Place the ball of dough on the baking sheet; repeat with the reamining dough and chocolate, placing cookies about 2 inches apart. Press 2 peanut halves into the top of each cookie.
Bake until cookies are golden, 16-18 minutes, rotating the pans halfway through. Remove from oven; transfer to wire rack to cool slightly.